MUSIC
AT A GLANCE
Hometown: York, PA, USA
Genres: Rock n Roll, Hard Rock
Band Members: Phil Freeman – Bass/Lead Vocals, Ben Guiles – Guitar/Vocals, Jonny Ross – Drums/Vocals
Achievements: "Viral Video of the Year" – heymanhustle.com, #neXt2rock competition regional winners for 105.7 The X, Winner of Lovers are Lunatics first ever "Band on the Rise" contest, Winner of 105.7 The X's  "Hey…I'm In A Band Too" contest, Single Of The Year winner at 717 Awards 2013
ONE SHEET
CONTACT INFORMATION
Booking – TKO Booking Agency – Andrew Goodfriend – andrewgoodfriend@tkoco.com
Press – Tag Publicity – Tom George – tomgeorgepr@gmail.com
PERFORMING RIGHTS SOCIETY
ASCAP
SOCIAL MEDIA/FAN STATS (AS OF 02/01/20)
Facebook likes/followers – 269,392/342,303
Instagram followers – 16K
Twitter followers – 2,813
YouTube subscribers – 88.9K
Number of fans on our email list – 12,970
Bandsintown trackers – 23,078
Number of CDs sold – 8,000+
Total revenue from merch sales this year (2018 – 32 shows) – $8,397.28
# live performances in past 6 months – 25
VENUE HISTORY
Tubby's – Duncannon, PA
Chameleon Club – Lancaster, PA
Hard Times Cafe – Hagerstown, MD
Shaka's Live – Virginia Beach, VA
The Stone Pony – Asbury Park, NJ
The Depot – York, PA
Goodfellas – Pottsville, PA
The Circuit – Essex, MD
Lebanon Valley College – Annville, PA
Gullifty's Underground – Camp Hill, PA
Brew's Brothers West – Luzerne, PA
The Village – Lancaster, PA
Orchards – Chambersburg, PA
Reverb – Reading, PA
Legendary Dobbs – Philadelphia, PA
Empourium – Jackson, TN
Take 20 – Cherry Valley, IL
Penny Road Pub – South Barrington, IL
11th Frame Bar and Grill – Madison, AL
The Warehouse – Clarksville, TN
Juicy Jim's – Memphis, TN
The Water Bowl – Muncie, IN
The Wizard Saloon – Hickory, NC
The Tree of Joliet – Joliet, IL
Hi Tone – Memphis, TN
Pappy Z's – Negley, OH
Oswego County Event Center – Pennellville, NY
The Rock Shop – Fayetteville, NC
SoHo Bar & Grill – Columbus, GA
Brass Mug – Tampa, FL
The Corner Pub – Slidell, LA
Rockhouse Live Midtown – Memphis, TN
The Open Chord – Knoxville, TN
Bada Brew – Crest Hill, IL
John Boy's Saloon – Flora, IL
OPENER EXPERIENCE
Papa Roach
Buckcherry
Adelitas Way
Black Stone Cherry
Sebastian Bach
Otherwise
Saving Abel
Pop Evil
Foxy Shazam
Kix
Trapt
Nonpoint
Filter
Tantric
Young Guns
SIMILAR ARTISTS
Alter Bridge
Audioslave
Foo Fighters
Shinedown
Royal Blood
Seether
DISCOGRAPHY
The Man (2019)
What Comes Next (Acoustic EP) (2019)
Somewhere (2019)
Hunger Strike (2019)
Rowdy and Reckless (Live at Think Loud Studios) (2019)
Immigrant Song (2019)
War Cry (2019)
Junkie For You (Hey Mama) (2018)
The Hybrid Sessions (EP) (2018)
Spoonman (2018)
Dragonfly (2018)
You're A Mean One, Mr. Grinch (2017)
Me Myself And Monster (2017)
Reflection (LP) (2016)
We Owe You The Truth (2015)
From Fight To Flight (LP) (2013)
Small Town Titans (EP) (2012)
LIVE PHOTOS
(COURTESY OF CAPTRESS OF ROCK, ROCK DOCUMENTED, AND KAM LIVE PERFORMANCE PHOTOGRAPHY)
PROMO PHOTOS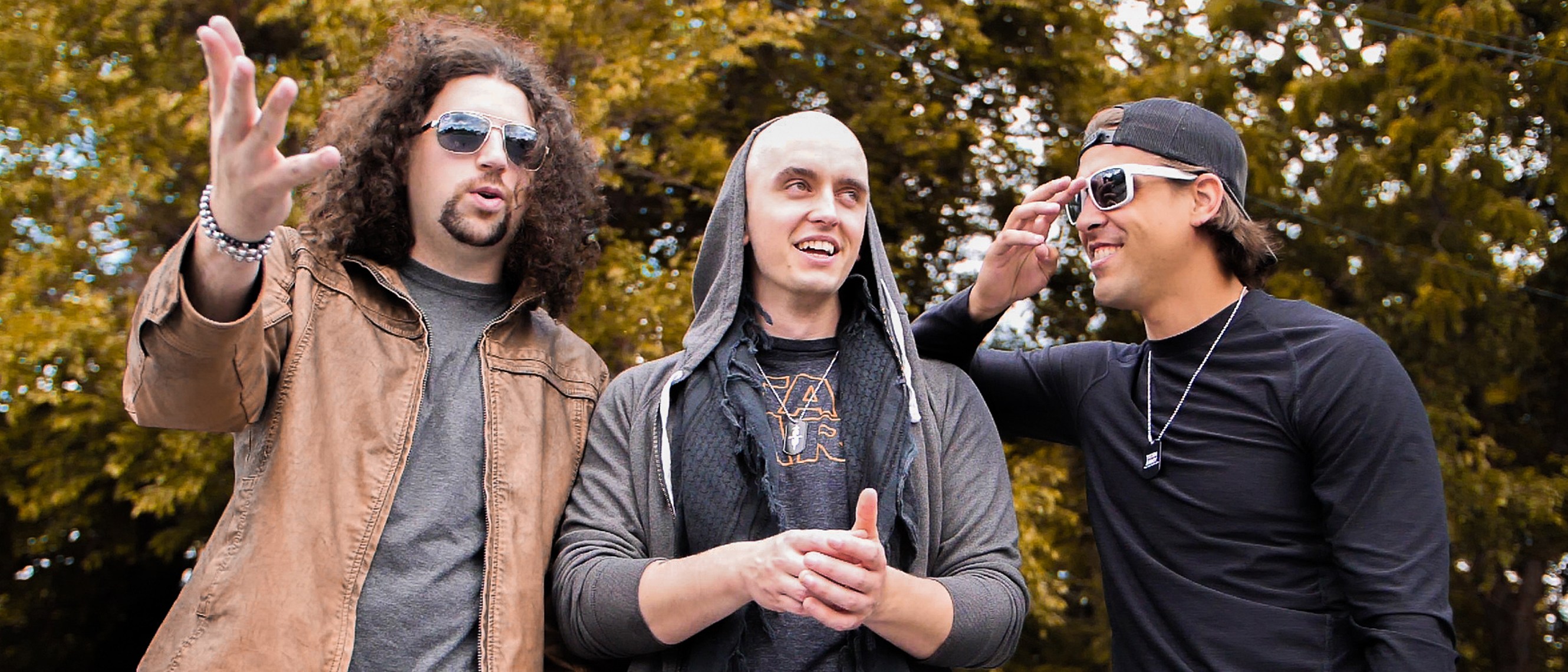 BIOGRAPHY
Phil Freeman – Vocals/Bass
Ben Guiles – Guitar
Jonny Ross – Drums
The Small Town Titans are an American rock n' roll power trio from York, PA who love to constantly create, as well as play live. Gone is the notion that a rock band should only release 10 songs at a time every 2 years. In a world where music fans crave new content constantly, the Small Town Titans aim to deliver their brand of art all of the time, drawing inspiration from a newer wave of rock bands such as Highly Suspect and Royal Blood, and rock legends such as the Foo Fighters, Audioslave, and Deep Purple. Thanks to their efforts at taking matters into their own hands, STT can create and release songs, podcasts, live online concerts, and more with no rules. In a social media driven world, STT knows releasing quality, constant content is as important as playing great live shows.
In November of 2018, the band's cover of the Christmas song "You're a Mean One, Mr. Grinch" went viral in a matter of days, leading to charting on various Billboard charts including Holiday Digital Song Sales, Rock Digital Song Sales, Emerging Artists, and reaching #5 on the Next Big Sound chart. The song also reached #2 on the iTunes Rock charts, only being surpassed by Queen's "Bohemian Rhapsody". STT quickly found themselves achieving success, all on their own terms. As a continued unsigned act, all three members have risen to the occasion to continue to make music the way they want to, free from having to follow traditional music industry rules. By changing their mindset and focus towards creating content like many successful YouTubers, STT has made fans the old fashioned way, by word of mouth.
With no manager, label, or radio support, the Small Town Titans have managed to find success by simply never forgetting one thing, their fans, both new and old. Instead of trying to make a million fans, STT is focusing on the fans they already have, and the ones they continue to make. With a love for playing live, a Small Town Titans show has evolved into more than a concert. It's an event, with a set list that's decided right before the show, and plenty of stage banter in between songs. The band simply hits the stage to deliver an energy driven show using guitars, drums, and their voices. Nothing more, nothing less. This approach to their live performances has led to them sharing the stage with acts such as Highly Suspect, Papa Roach, Black Stone Cherry, Pop Evil, and more.
By focusing on their engagement on social media and managing themselves, Small Town Titans are growing like never before and having more success as a business and a brand. STT is actively forming a team of like minded individuals in the new music business who are just as driven and passionate as they are, rather than waiting to be discovered. For all things STT, visit smalltowntitans.com.
PRESS
"If Soundgarden had ever needed someone to stand in for [Chris] Cornell, [Phil] could've filled in. No question." – Classic Rock Magazine
"One listen to Small Town Titans' version [of "You're A Mean One, Mr. Grinch"] and you'll hear that Phil Freeman's deep baritone and delivery is a perfect fit to capture the spirit of the original. Freeman, who also plays bass for the band, teams with drummer Jonny Ross and guitarist Ben Guiles to put their own fresh take on the track, giving it a bluesy feel with a definite darker vibe." – Loudwire
"If you ever asked yourself if it's possible to be weird and still enjoy the holiday spirit, the answer is in this song ["You're A Mean One, Mr. Grinch"]. It's a flashing yes." – Alternative Press
"The soul of the original song ["You're A Mean One, Mr. Grinch] is kept, but the twist that Small Town Titans puts on this classic makes it seem like their version is the original and anything else is actually a cover." – Concert Crap
"Merging their hard rock roots with dark blues, Small Town Titans' re-work of "You're a Mean One, Mr. Grinch" breathes into a classic track the smoldering sonics it deserves." – Highlight Magazine
"The trio from York, Pa. may have recorded the most menacing cover of this track ["You're A Mean One, Mr. Grinch"] we've ever heard." – WRAT 95.9 FM
"Small Town Titans has just released probably the most metal cover I've ever heard of "You're A Mean One, Mr. Grinch," and I never thought I'd like another version more than Jim Carrey's rendition. This certainly gives that version a run for its money." – Acronym
"Having embraced the new music business model of driving your own train and being passionately active, Small Town Titans are not waiting to be 'discovered', no, they have been continuing to grow their online fan base by leaps and bounds." – Plaza.NG
Small Town Titans Explode Onto the Scene with "Me, Myself, and Monster"
"While many rock bands and critics decry that rock n roll is dead, Small Town Titans, ailing from York, PA, have come to embrace the new music system with a critical awareness of the challenges and advantages, all without losing the gritty edge that defines the genre. Their newest single, "Me, Myself, and Monster" take the retro-experimentation of Highly Suspect and boosts with metal infused testosterone." – Antihero Magazine
"Small Town Titans are no joke. I would have to say one of the best, if not the best, live acts in Central PA. They hold their own with any national act i've seen them open for. Go see them perform." – Rob Simon – 105.7 The X
HGR CD Review: Small Town Titans by The Professor Jim Price
"From Fight to Flight sounds vibrant, explosive and full. Each song provides its own distinctive twist, while the mix and the band's presentation maintain a consistency throughout. Small Town Titans deliver an engaging set with From Fight to Flight, and their balance of melody and storminess should win attention and propel them forward."
Click HERE for full review.
Small Town Titans – Artist Spotlight by Mid-Atlantic Rock Reviews
"It was pretty clear from their live set that this was a band we would be seeing more of in the future as the hometown boys thrilled the Harrisburg crowd with their high energy live act."
Click HERE for full review.
The Thought Lot Rocks the Shippensburg Night Life by Robyn Woodley – The Slate Online
"Small Town Titans emitted large amounts of energy, which demonstrated the passion it has in every note."
Click HERE for full review.
STAGE PLOT
INPUT LIST
| | | | |
| --- | --- | --- | --- |
| No. | INPUTS | SPEC | STAGE POSITION |
| 1 | Kick | Short Boom Stand and Mic | UC |
| 2 | Snare | Attached Mic OR Boom Stand w Mic | UC |
| 3 | Tom 1 | Attached Mic | UC |
| 4 | Tom 2 | Attached Mic | UC |
| 5 | Tom 3 – Floor Tom | Attached Mic | UC |
| 6 | Hi Hat | Boom Stand w Mic | UC |
| 7 | Overhead SR | Boom Stand and Mic | UC |
| 8 | Overhead SL | Boom Stand and Mic | UC |
| 9 | Ride | Boom Stand and Mic | UC |
| 10 | China | Boom Stand and Mic | UC |
| 11 | Bass | DI Pedal MXR M-80: XLR Needed | R |
| 12 | Guitar Cab / Head | Short Boom and Mic | L |
| 13 | Bassist Vocal / Vocal 1 | Boom Stand and Mic | DL |
| 14 | Guitarist Vocal / Vocal 2 | Boom Stand and Mic | DR |
| 15 | Drummer Vocal / Vocal 3 | Boom Stand and Mic | UC |
| 16 | Center Vocal / Vocal 4 | THIS IS OPTIONAL (Boom Stand and Mic) | DC |
| 17 | Acoustic Guitar | DI BOX | DC |
FOLLOW US